Popular Activities and Area Attractions near Whidbey Island Vacation Rentals
Whidbey Island is an outdoor wonderland, but also has plenty of cultural charm to enjoy. Some of the most popular activities on Whidbey Island include: Exploring Whidbey Island by kayak or boat. There are miles of shoreline to explore with incredible views, including Deception Pass State Park, Whidbey Island Marine Life Center, and Whidbey Island National Wildlife Refuge. Visiting Whidbey Island wineries and breweries. Whidbey Island is home to many wineries and breweries, scattered throughout the island. Spend the day exploring unique wine and beer offerings, or spend the evening at one of Whidbey Island's beautiful wineries for a dinner paired with local wines. Enjoying the Great Outdoors. Whidbey Island offers plenty of opportunities to enjoy all kinds of outdoor activities, from hiking and biking trails to fishing and kayaking. You can go camping at one of the island's many parks, or take a leisurely stroll along one of the beautiful beaches. Whidbey Island also offers plenty of mountain bike trails for those looking for an adrenaline rush. Visitors can find world-class fishing on Whidbey Island or explore the islands of Possession Sound and Saratoga Passage. Kayaking is popular in Deception Pass State Park and Whidbey Island boasts some of the best windsurfing in the Pacific Northwest. Exploring nearby islands. Whidbey Island is part of the San Juan Islands, which also include Orcas, Shaw, Lopez, Blakely, and more. Whidbey Island is connected to many of these islands by ferry and offers plenty of opportunities for exploration. From quaint island towns to stunning natural scenery, Whidbey Island's neighboring islands offer a wealth of activities and attractions for visitors. Visiting Whidbey Island's historic sites. Whidbey Island has a rich history and is home to many historic sites, such as Fort Casey State Park and the Admiralty Inlet Lighthouse. Whidbey Island has also been a popular destination for film and television productions, including parts of the Twilight saga.
What is the weather like in Whidbey Island?
Whidbey Island has a moderate, maritime climate with mild temperatures throughout the year. Summers are warm and sunny, while winters tend to be cool and wet, with average temperatures ranging from 35°F in January to 76°F in July. Whidbey Island is also known for its windy days, with frequent breezes coming in from the nearby ocean. The island receives an average of 50 inches of rainfall each year and also experiences snow during the winter months, although this does not typically accumulate or stick around for very long.
What is the easiest way to get to Whidbey Island?
The most convenient way to get to Whidbey Island is by car. The south end of the island can be accessed easily by taking your vehicle on the daily Mukilteo-Clinton Ferry, and the north side can be reached from the mainland by crossing the Deception Pass Bridge. In addition to ferries, Whidbey Island is also accessible by air through the Whidbey Island Airport, located just outside of Coupeville.
What are the most popular restaurants and types of cuisines in Whidbey Island?
Whidbey Island offers a wide range of restaurants and cuisines to suit any palate, with a focus on local ingredients and fresh local seafood. Some popular restaurants on Whidbey Island include: Whidbey Pies (Langley): Specializing in seasonal pies made with local ingredients. Fraser's Gourmet Hideaway (Oak Harbor): An steak and seafood restaurant offering an elevated take on American and Pacific Northwest cuisine. Captain Whidbey Inn (Coupeville): A cozy spot offering Pacific Northwest cuisine, focused on fresh and seasonal ingredients. Front Street Grill (Coupeville): Offering classic American fare in a waterfront dining room with spectacular views.
What are some of the most popular areas or neighborhoods to stay in while visiting Whidbey Island?
Whidbey Island has a variety of areas to satisfy all types of travelers. Langley: A charming waterfront village offering plenty of galleries, shops, and restaurants. Coupeville: Boasts stunning views of Penn Cove and the Olympic Mountains. Oak Harbor: Whidbey Island's largest town, offering outdoor activities like kayaking, fishing, and birdwatching. Freeland: Located in the middle of Whidbey Island with easy access to the north and south ends of the island. Greenbank: A historic rural community nestled in the heart of Whidbey Island, known for its winery and cheese-making operations. With so much to do, Whidbey Island vacation rentals provide the ideal home base for an unforgettable experience. Book your Whidbey Island vacation rental today!
GET INSPIRED FOR YOUR NEXT TRIP TO WHIDBEY-ISLAND
Vacation Rentals For Your Next Getaway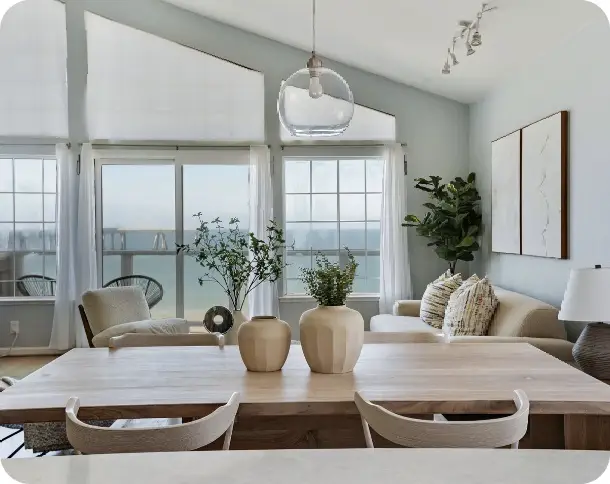 Ocean Views
Check out available vacation homes with breathtaking ocean views for your next trip to Whidbey-Island.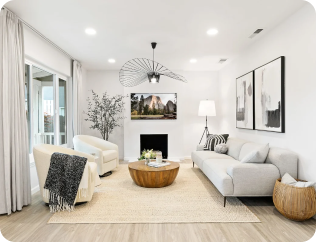 Luxury Home Rentals
View luxury homes of all sizes for groups, couples, or families for your next visit to the San Francisco Bay Area.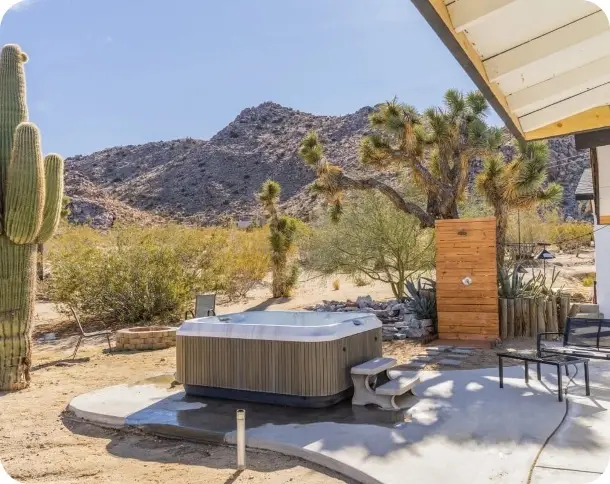 Mountain Views
Check out available vacation homes with breathtaking ocean views for your next trip to Hawaii.
WHAT CUSTOMERS ARE SAYING ABOUT MARBELLA LANE'S VACATION RENTAL MANAGEMENT SERVICES
I have really enjoyed working with the Marbella team for the past year. They have a one-stop service which substantially saves me time and energy in terms of managing my Airbnb property. Their service includes the beautiful furnishing of the entire house, purchasing all operating essentials, conducting regular repairs, and more. I can fully trust them and am very happy to see their super performance results. They have high standards for cleaning which is a key criteria for Airbnb experience. The management team is easy to communicate with and has the mindset of constant improvement. Overall I highly recommend Marbella to anyone who is seeking a good Airbnb management company.
Li, Pacifica, CA
Marbella Lane has been great! They helped me completely furnish my rental property after I purchased it and have been taking great care of it for the last 2.5 years! They have a great team and really care about the property owners and guests. They are always available and communication is great! I'm very happy with the job they've been doing and can't imagine trusting my home to anyone other than Marbella Lane!
Vacation Home Owner
Browse Vacation Rentals By Metro Areas
Browse Vacation Destinations
Get In Touch
Marbella Lane
15635 Alton Pkwy
Irvine, CA 92618
View Sitemap